Bad breath is a common problem which can affect people of all ages but the good news is that your Southampton Dentist can help. Bad breath can be embarrassing and can even stop other people from wanting to carry on a conversation with you. Mouthwash may freshen your breath temporarily but it may not solve the problem. A visit to the dentist is your best option.
From experience we'd say that around 80 percent of bad breath is caused by something going on in the mouth. The other 20 percent is very often caused by some sort of infection, such as a cold, sinus, asthma and more besides.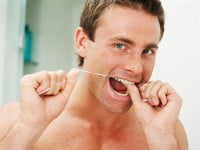 If you're feeling under the weather and your breath smells horrid then book an appointment with your dentist to see if the condition can be treated with antibiotics. If you're feeling perfectly healthy then it's fair to say that your bad breath is connected to your oral health.
Here at Smilemakers, Dr Thomas Darling recommends that patients have their teeth professionally cleaned at least twice a year and for those with particularly bad breath, this should be increased to three or four times a year. During these treatments a hygienist will remove any bacteria and plaque from the teeth and gumline which is impossible to remove by normal brushing. Any plaque or bacteria which has become trapped can produce a nasty smell. The hygienist will also be able to check for any signs of tooth decay or gum disease. Bad breath can be the result of an oral infection due to something which is deteriorating inside the mouth. By removing any decay and treating the infection the breath will start to smell fresher and a painful toothache will have been avoided.
There are many things you can do yourself at home to keep your breath fresh and these include:
Brushing at least twice a day and flossing once a day to remove all traces of food particles which may have got lodged between the teeth
Eat an apple – Certain foods such as apples will naturally freshen your breath and instead of reaching out for a packet of crisp as a snack, an apple is far healthier.
Drink more water – When you drink water it helps the body to produce more saliva which is nature's way of rinsing away food particles, particularly after you have just eaten, and keeping bacteria at bay. Without drinking water the mouth becomes dry and this can cause bad breath and increase the risk of oral problems.
If you suffer from bad breath it could be alienating you from other people and lowering your self confidence. We're a general dentist as well as a cosmetic dentist in Southampton so not only can we make your mouth healthy but we can also restore and brighten smiles. You can read more information on our website at www.smilemakers.co.uk or book an appointment. Why not call us today on 02380 442626 to book an appointment. We look forward to meeting you.