You may have looked enviously at celebrities and their gleaming smiles but not realised that you can benefit from similar techniques. Most people associate seeing their dentist with the important business of maintaining oral health but our work does not stop there. Smilemakers is a cosmetic dentist in Southampton that offers procedures to enhance the appearance of your teeth and mouth. We all want to be noticed for the right reasons, but this is less likely to happen if your teeth are damaged, misaligned, discoloured or missing. We know that having a great smile is important to your self-esteem and can make a big difference to your day.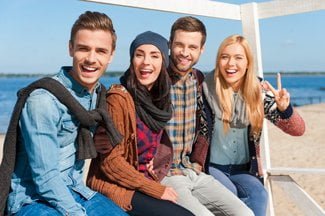 Treatments to suit you
If you feel unhappy about your appearance, then help is at hand from your Southampton cosmetic dentist. We are proud to offer our patients a range of procedures so that we can help, whatever the issue. Even missing teeth do not have to be a permanent problem as they can be restored with crowns, bridges or implants. If your teeth are discoloured due to stains, damage, smoking, age, fluoride or antibiotics, then there are whitening treatments available. Veneers are another option to improve your appearance using a thin layer of tooth-coloured porcelain which covers damaged or dingy teeth.
Modern equipment and a friendly service
We look forward to welcoming you to our newly refurbished premises, which are equipped with the latest technology and designed with your comfort in mind. Our whole team is professional, approachable and committed to giving you the service you deserve. To make life easier, we offer weekend and evening appointments, so you can access a Southampton cosmetic dentist at a time which suits you. Patients who rely on us as their cosmetic dentist in Southampton benefit from our commitment to the latest techniques as well as our caring attitude. If you want to start treatment straight away but are worried about the costs, then you might like to know that we offer a 0% interest finance option, so you can spread the payments out.
Find out what it is like to live life with a smile you love and explore how using us as your cosmetic dentist in Southampton can help you.