Did you know that you can give your smile a makeover when you visit the cosmetic dentist in Southampton? A smile makeover is more than just having the odd bit of cosmetic dentistry here and there. It's where you dedicate yourself to getting the smile you have always wanted, and we use all our expertise, skill and experience to create it for you.
How does a smile makeover work?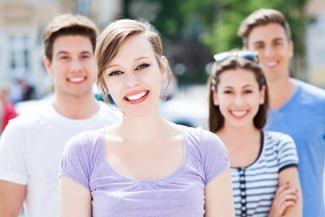 When you book a consultation for a smile makeover with us at Smilemakers, your cosmetic dentist in Southampton, we will start by making a thorough examination of your mouth. Before we can do any cosmetic work, we need to make sure that your mouth and teeth are in good oral health. If all is well, we can take a look at the various imperfections and have a good chat with you about what bothers you about your smile and how you would like it to look.
We will then make suggestions of different treatments that can be used in combination to create the smile you want. We will deliver this to you in a written treatment plan, detailing the order of treatments and estimated costs for each one.
Our aim, as your cosmetic dentist in Southampton, is to give you a beautiful natural smile to be proud of. This may involve getting your teeth straightened.
Teeth straightening
Cosmetic teeth straightening can be done with fixed or removable discreet braces. Also, if it is just one or two very mildly misaligned teeth, they can be hidden with veneers.
Veneers
These are tiny sheaths of highly durable porcelain that are fixed on the front of your teeth to cover imperfections such as chips and cracks, worn edges, gaps, and even certain stains. Cosmetic bonding, where the porcelain is sculpted over the tooth, can also be used in some cases.
Teeth whitening
Most teeth lose their pearly whiteness due to staining from tea, coffee, red wine, certain foods and tobacco. Teeth also get yellower with age. Whitening can be done at the clinic or at home with one of our special take-home kits.
To find out more why not book an appointment?