At Smilemakers Orthodontic and Implant Clinic, we have a special interest in teeth straightening and dental implants. We also offer everyday dental services for all your family needs. As you may be unfamiliar with the full range of our services, or you might be looking for a new dentist in Southampton, we thought we would give you the low down on our family practice.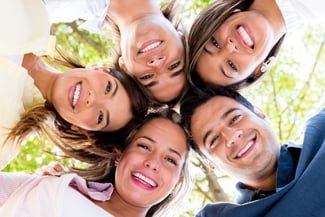 Dental services for your children
We like to see your child as soon as their first tooth erupts, for a gentle check-up and chat about their dental health needs. After this initial appointment, we'd see them every 6 months as they grow. We can teach them the best brushing techniques and as they grow we'll monitor for any potential orthodontic issues so we can resolve them early. We also offer fluoride painting and fissure sealants to add extra protection from decay.
Hygiene appointments for you
Preventive dentistry not only cares for your oral and general health, it can also saves your pocket from expensive restorative treatments later down the line. Gum disease starts very easily – irritation of the gums from hardened plaque or tartar causes inflammation. Gingivitis is a mild form of gum disease, cured easily with our supervision. If it is left untreated, it can develop into a more serious periodontal disease that's a leading cause of tooth loss, affecting your long-term oral health. At your 6-month check up we will look for any warning signs of gum disease, decay or other potential problems before they develop further.
Root canals, extractions and fillings
As your dentist in Southampton we also offer root canal work and extractions and fillings. White or tooth-coloured fillings are also available as part of our services, keeping your smile looking natural, even when you've received treatment.
Cosmetic dentistry and facial aesthetics
From teeth whitening to veneers, we can brighten your smile quickly with our cosmetic treatments and whilst you're rolling back the years with sparkly teeth, why not try Botox or dermal fillers.
Straightening and replacing
Finally, we offer a wide range of brace options including invisible braces. We also have a special interest in dental implants, an innovative solution to tooth loss.