Take a look around at the people you meet. If you are over 40 or so, have you noticed how many people seem to have beautiful smiles these days? It may even seem that the incidence of people being born with wonky teeth is on the decline.
But the truth is that very few people indeed have naturally straight teeth. The reason that we see fewer and fewer snaggle-toothed smiles is that getting them fixed at the dentist in Southampton is easier and better value than it's ever been before.
Here at Smilemakers, we focus our dentistry skills on making beautiful smiles. This dentist in Southampton is all about cosmetic treatments and teeth straightening.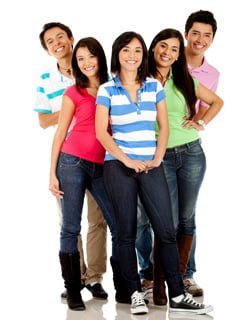 A range of options to suit you
We make it our business to make your smile beautiful. If your teeth need straightening we have 5 different systems to choose from, each designed to help solve a particular wonky tooth issue and to suit a particular lifestyle and income.
Gone are the days of heavy-duty metal braces, known as train tracks, for nearly everyone except those who have serious bite issues that need correcting. If it's literally only your very front teeth that need sorting out, maybe they protrude because you sucked your fingers as a child, then the Inman aligner is ideal for you. If there's more at stake, and you have a public-facing job for which you have to look perfect, then something like the almost invisible Invisalign can straighten your teeth and it's very likely even your closest colleagues won't cotton onto what you are up to.
If your teeth are straight enough, but need other kinds of attention, we aren't short of ideas for helping solve any issues. Of course, we offer teeth whitening, the world's most popular form of cosmetic dentistry, a fast and simple way to improve your smile with very little time in the dentist's chair required. Perfect for special occasion photos, such as weddings and graduations.
We can also enhance chipped, cracked, or oddly shaped teeth with porcelain veneers or composite bonding. We can replace missing teeth and change unsightly amalgam fillings for white ones.
Why not come in and see what your Southampton dentist can do for you.