This is a question we are often asked here at Smilemakers and the answer is that just about anyone can have this treatment, but of course we can't say for sure until you have had a consultation with our Southampton dentist. People often think that age may be a problem, but this really isn't the case. Younger people can benefit from dental implants provided their jaws have stopped developing, while age isn't a barrier for older people as good general and dental health is much more important. However there are certain factors that can influence whether or not you can benefit from this treatment.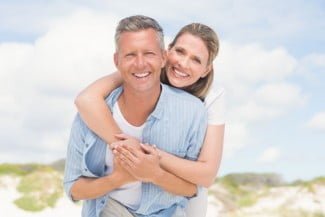 Certain Health Problems May Affect Dental Implant Treatment
Health problems, particularly any impacting your immune system can affect dental implant treatment. This is because dental implants need time to heal and integrate with your jawbone and if anything disrupts this healing process it can increase the risk of implant failure. Diseases that can affect dental implant treatment include diabetes, but even so it's still worth having a chat with our Southampton dentist if you have this condition.
People who have their diabetes particularly well-controlled may still be suitable for dental implants, so it is well worth asking if you are in this situation. When you have your initial consultation with our dentist in Southampton, you will find we do need to know your medical history, including any health conditions and medications being used that could impact treatment.
A Healthy Jawbone Is Essential
Dental implants consist of a titanium post that is inserted into the jawbone. This replaces a natural tooth root and over time the post integrates with the jawbone. It is specially treated to encourage the growth of new bone cells on and around the post so that eventually it will be strongly anchored in position. For this to happen dental implants need to be inserted into a certain amount of healthy bone which can be a problem for some people. This is because the jawbone can be destroyed due to periodontal disease or some other condition and you naturally lose bone after your teeth are extracted. If you lost teeth quite some time ago then it's possible you may not have sufficient bone to place your dental implants, but this doesn't mean treatment is impossible.
Instead, we might suggest you have a bone graft prior to treatment which will build up the bone so it is the correct height and width and able to support dental implants. Sometimes this might lengthen the treatment time as quite often the bone needs to be placed in a separate procedure, but if only a small amount of bone is required then we may even be able to carry out a bone graft at the same time as we insert your dental implant.
When you visit us here at Smilemakers for your initial consultation about dental implants, you will find we go to a great deal of trouble to determine if dental implants are the best option for you. Our dentist in Southampton will thoroughly examine your jawbone and will chat to you about this process, helping you decide if you want to go ahead. If you are interested in dental implants then we encourage you to book an appointment with us and you can call us on 02380 442626. You can also find out more about dental implants on our website at www.smilemakers.co.uk.